Mathilde Moreau
Printing arts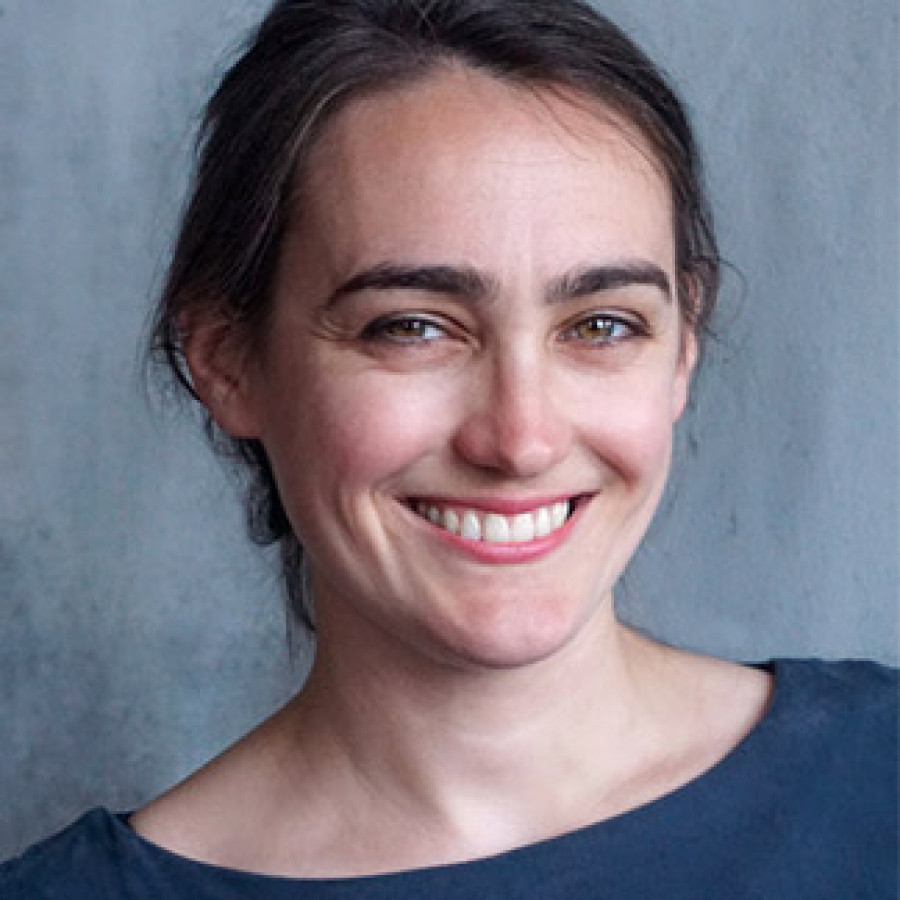 Biography
Mathilde Moreau is a graduate of ENSAAMA Olivier de Serres in Paris, and a textile designer. Since 2006, she has been working with architectural firms specialized in projects with cultural and heritage value. Following her immigration to Québec, she solidified her desire to explore new technologies through pursuing specialized studies in the field of textile finishing at Cégep du Vieux Montréal. Originally from France, but residing in Québec since 2010, she founded her own textile design business in 2014, thus presenting her textile accessories and square silk cloth offerings. She participated in the Salon des métiers d'art in 2014 and 2017. The quality of her creations has enabled her to build credibility in the Québecois textile design industry. In 2017, she reoriented her work to the visual arts, and started to develop the Murales series, of which one of the pieces was a finalist for the François Houdé Award in 2017.
Discover more about the artist
Artistic approach
I would categorize my work as being integrated into a scene of emerging artists who combine practical artistic know-how with design methodology, in order to create works of art that resonate with the times.

The analysis phase in the research of my subject matter is central to my practice. Based on experimentation by repetition, a notion directly inspired by design creation methodology, I have developed observation, data collection and synthesis tools.

Memory serves as the theme and starting point for my research. As ramifications of this theme, I address subjects like anthropology, architecture and forgotten popular traditions.

I reappropriate the subject of memory through collage work, in which I superimpose graphic motifs to the extent of partially recovering textures obtained through direct application. I develop the condensed and layered motif as a material in and of itself. Throughout this process, screen printing constitutes my preferred technique.

For my recent series, entitled Murales, I am drawing on the origins and history of wall covering from 16th-century Europe, in which sheets of decorative paper, called "dominoes" in France, were printed using woodblocks. With decorative objectives, early forms of wallpaper were glued to the walls and juxtaposed to obtain the desired motifs. The traditional techniques carried out by master wallpaper artisans disappeared in the industrial era, in favour of the mechanical printing techniques we know today.

The demarcation of my screen printing frames is clearly evoked by the motifs, through the superimposition of repeated print marks, and makes reference to traditional wallpaper. I use my screen printing frames to seek out expressions of altered memories, through the lack of coupling and imperfections in matching up of motifs. I thus voluntarily seek out such irregularities to both evoke the fragility of souvenirs that are getting stamped out, and refer to the sensitivity of the artisanal gestures of master wallpaper makers. Printing in large-scale formats, I create work and motifs that are life-sized. Using a human scale enables me to present my works as fragments of walls, bearers of history and identity. In this context, the wall is treated as a support for expression, a marker of identity, a dimension in which one leaves one's imprint. For the very reason that they bear identity, I especially use motifs from folkloric traditions from all over the world. Regarding this folkloric heritage, through this Murales series, I also ask the questions: Is it alive? How does it translate in the present?

Through my practice, I seek to incite inspiration, to initiate introspection in the viewer, regarding their cultural heritage. By extension, I strive to invoke collective memory and bring forth a sense of pride for a common identity, our humanity.